The ideal city
in village format
Crespi d'Adda has a unique and rare shape. From all the positions, it seems an ideal town. All the particulars shows an aesteìhetic which lives with functionality in all buildings; from the top we can notice the role played by order and rules.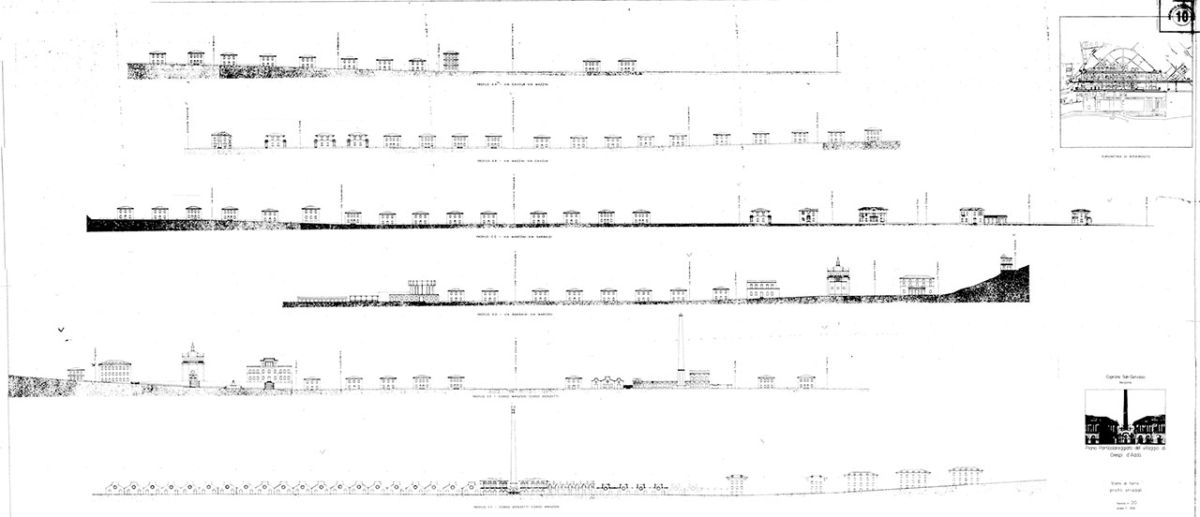 The town planning of Crespi d'Adda wants the village to be divided into two sections by Via Manzoni, a long road that starts from Capriate San Gervasio (BG) and ends near the cemetery. Its course cuts Crespi d'Adda in two, leaving the area intended for living on the left and the area dedicated to work on the right.

The textile factory offers the observer a very long side, in front of which the residential and services part opens, which acts as a backdrop for community life. Here, the workers' houses stand out. Arranged on a sort of chessboard, they are the best known architecture of Crespi d'Adda, reminiscent of the working-class cities of Northern Europe.

Uniform in appearance, they are surrounded by a small garden where it was possible to cultivate the vegetable garden, and separated by fences made with the straps recovered from the raw cotton packaging. The more recent houses are instead the home of the managers. Built on a green area next to the forest, they are positioned more freely to the south-east.

The streets follow an orthogonal order, reminiscent of the typical cardoons and decumans of Roman cities. Useful for dividing the various areas in a logical and functional way, they trace the physiognomy of Crespi d'Adda as an example of an urban rationality of the past.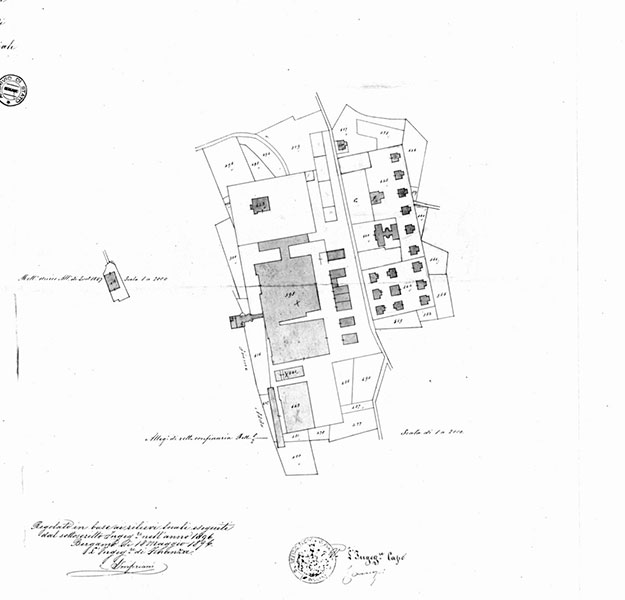 Functional efficiency
must go hand in hand
with beauty
The architecture of Crespi d'Adda follows a single basic philosophy: functional efficiency must go hand in hand with beauty. Strengthened by this principle, Cristoforo Benigno Crespi first and Silvio Crespi later summon the architects and engineers who are most able to express this concept to Crespi d'Adda.
The professionals called to enhance the civil commitment of architecture are Angelo Colla (1837-1891), Ernesto Pirovano (1866-1934), Gaetano Moretti (1860-1938) and Pietro Brunati (1854-1933).

Under the aegis of these four professionals, the workers' village of Crespi d'Adda takes on a multi-style architecture. The neo-Gothic is the predominant one, while the Renaissance style defines the appearance of the church and the neo-medieval one is evident in the structure of the villa-castle. To these buildings is added the mausoleum which is a construction with the less defined style. There can in fact find features drawn from the Viennese secession and the Mesopotamian and Egyptian constructions, which are added exotic decorative details and oriental.